Bing Chat for Enterprise is Bing Chat (GPT-4 enriched with web results) but with "commercial data protection."
"Commercial Data Protection" means user and business data is protected, chat data is not saved, Microsoft has no eye-on access to data, and chat data is not used to train the underlying models.
Bing Chat enterprise does *not* have access to your M365 data (that's M365 Copilot)
Bing Chat Enterprise is accessible via bing.com and the sidebar in Microsoft Edge. It will also come to Windows Copilot in the future.
Bing Chat Enterprise is available in Preview for Microsoft 365 E5/E3, Microsoft 365 Business Premium/Standard. It will be no additional cost for Microsoft 365 SKUs.
It will be turned on by default on August 17, 2023; right now, IT Pros have to opt into the preview.
In the future, an add-on SKU for Bing Chat Enterprise will be offered at USD$5 per user per month for Office 365 E Pans.  Microsoft 365 A, G, or F SKUs are not eligible for Bing Chat Enterprise.
Customers who do not want to offer Bing Chat Enterprise to their users before or after August 17, 2023, can opt out.  More information on how to do this can be found here: https://learn.microsoft.com/bing-chat-enterprise/
What is the difference between Bing Chat and Bing Chat Enterprise?
Employees using Bing Chat Enterprise will be signed into Bing.com/chat using their work account.
Once they do so, they'll see that Bing Chat Enterprise has a unique design that distinguishes it from the consumer version of Bing Chat.
Above the chat input box and on top of every chat answer, users will see a message that says, "Your personal and company data are protected in this chat".
The plan is to match Bing chat (consumer) features, but, Initially, chat history, plugin support, Bing Image Creator and Visual Search in Chat and Bing mobile app are not supported.
Bing Chat Enterprise: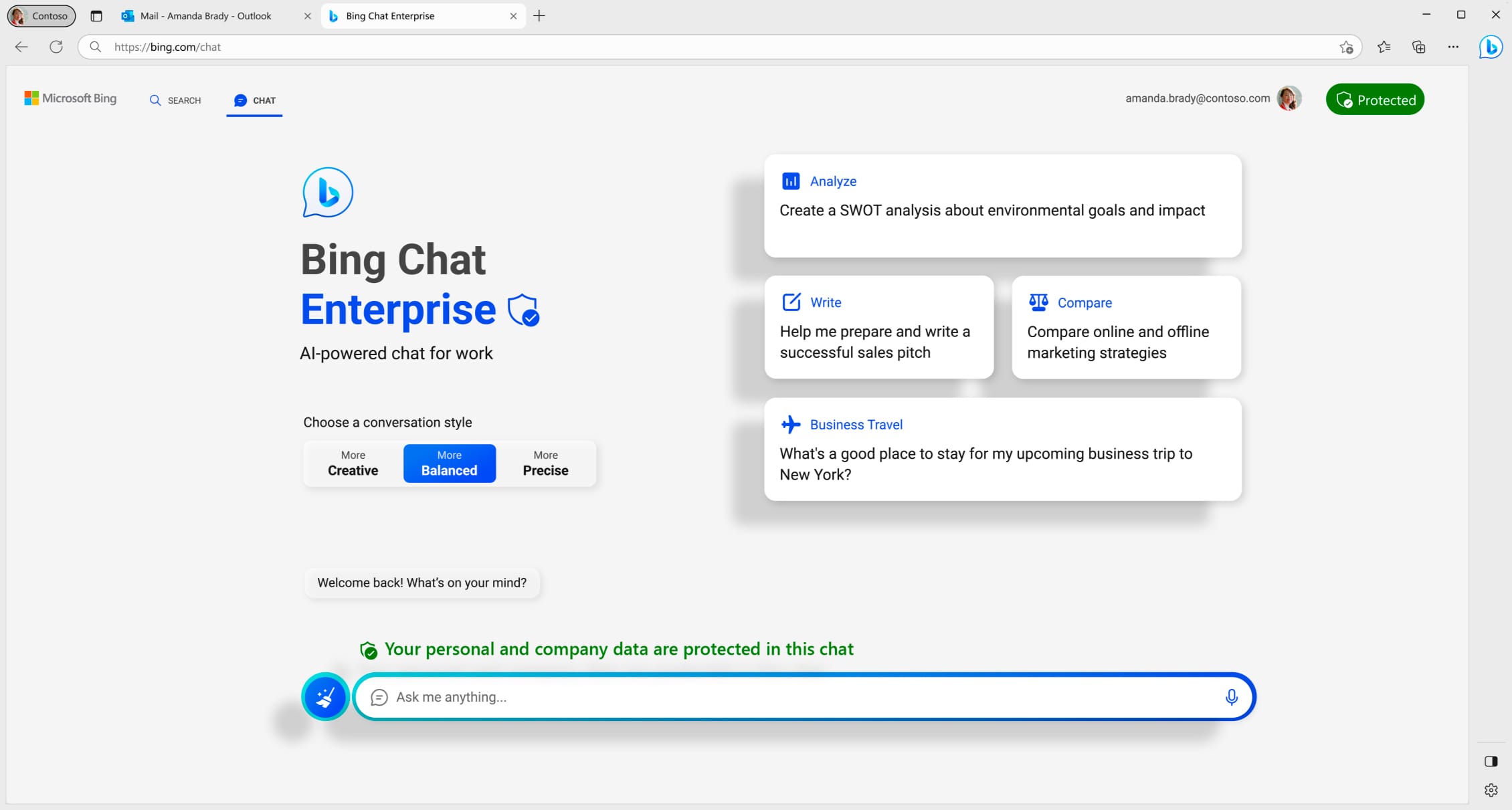 Bing Chat (consumer):
Note, by default Office 365/Microsoft 365 users signed into Edge without Bing Chat Enterprise will reach Bing Chat (consumer) unless admins block it)
What are example use cases for Bing Chat Enterprise?
Bing Chat Enterprise can help employees quickly generate content, analyze or compare data, summarize documents, learn new skills, write code, and more.
For example, you can ask Bing Chat Enterprise to help you:
Understand the implications of a decision: "What are the pros and cons of offline marketing strategies?" and "How can I measure the success of my offline marketing campaign?"
Learn new skills: "What are the top 5 things I should know when managing a large project?" and "What is agile project management, and how does it differ from waterfall?"
Analyse data: "If we're forecasting 7% EPS growth this coming quarter, how does our internal forecast compare with EPS growth in the top US public CPG companies?"
Summarize a work PDFs open in Edge: "Recap the findings of this internal cybersecurity report and the top 3 concerns" and "What are best practices for addressing these kinds of security issues?"
Write better code faster: "Write a regular expression in Python that matches email addresses" or "How can I use the unit test module to write test units for my Python code."
Plan a business trip: "Where should I stay in Manhattan that has a good running path close by?"
Generate social media content: "Use this messaging framework to generate 5 social media posts describing its value to healthcare workers."
How to turn on Bing Chat Enterprise
This is a global on-switch for all M plan users. It's not controllable on a per-user basis at this time.
Ensure the Microsoft Search in Bing setting in the Microsoft 365 admin center is turned on.
In Microsoft 365 admin center, go to Settings > Search & intelligence the Configuration.
Note: Turning off the Microsoft Search in Bing setting in the Microsoft 365 Admin Center prevents the use of a Microsoft Entra ID (currently known as Azure Active Directory) workplace identity with Bing. With this setting, Bing Chat Enterprise isn't accessible, and Bing Chat is only available for unauthenticated users or those logged in with a personal Microsoft Account.
2. Go to https://aka.ms/TurnOffBCE as a tenant admin in Edge (support for other browsers is due to come in the future)
Accept the terms and turn it on
How to turn off or block Bing Chat Enterprise
To permanently turn off Bing Chat Enterprise or turn off Bing Chat Enterprise after enabling it:
Go to https://aka.ms/TurnOffBCE to opt out of Bing Chat Enterprise. It may take 2-4 hours for this change to go into effect.
If you follow this step to turn off Bing Chat Enterprise, it will not be turned on by default in mid-August.